On A Recent New York Trip, Vallejo's Own Sits Down For An Exclusive Interview With CLE Magazine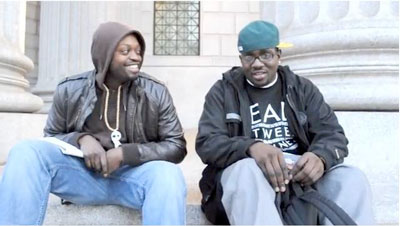 The Video:

Moe Green was recently in New York City to grace fans with a smattering of live performances during the CMJ Music Festival, including at the second annual Audible Treats Showcase. While in town, Moe took time out to talk to CLE Magazine to talk about his new album and give a candid interview on a number of topics. The Vallejo, California native lays out his busy schedule in a lighthearted fashion, touching on his hometown, upcoming collaborations and shows, the differences between east and west coasts, and even offers up some advice on dealing with often hard-to-impress New York crowds. By all accounts, the sit down proves that 2010 has been more than kind to Moe and with and an upcoming free EP, Lionheart, ready to drop at the top of the year, 2011 looks to be just as successful.

Watch the video for the CLE Intervierw here:


CLE x Moe Green Interview from CLEMagazine on Vimeo.
Please contact Michelle or Dan if interested in talking with Moe Green.
Moe Green was recently featured in XXL Magazine's Show & Prove. Check out the feature below.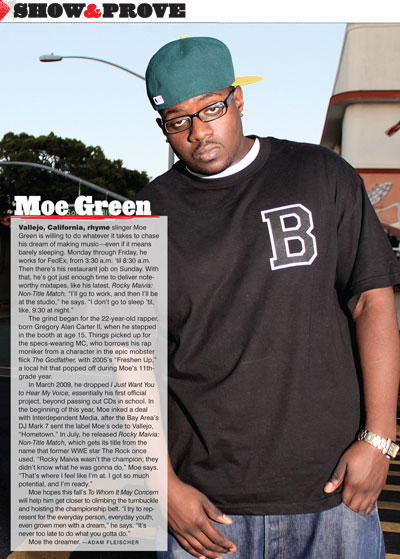 The Background:
The rap game is overflowing with aspiring new MCs, all crammed into a single ring fighting for that lone heavyweight title. One particular competitor who has fully dedicated himself to the good fight is 22-year old Moe Green from Vallejo, California. His forthcoming debut album, Rocky Maivia: Non Title Match, is titled after Dwayne "The Rock" Johnson's first professional ring name and perfectly embodies Moe place in today's hip-hop circuit – the newcomer who is one day going to hold the championship belt. Like any fighter, years of training, dedication, and discipline are required to claim the top spot. Moe has been training for this his entire life. Having competed in speech and poetry meets growing up, Moe found himself genuinely attracted to the creative freedom music imparts early in his life, even writing rhymes in kindergarten with his childhood best friend and E-40's son, Droop-E. Listeners of Rocky Maiva can expect to hear tales from a young man from a hard hit city trying to find his way in the world the best he can. On growing from Rocky Maivia to one day standing amongst the greats, Moe says, "I need to win a couple belts first. I have to prove that I have the skill to do that and this album is like my wrestling debut." And so, the journey begins.
About Interdependent Media:
Founded in 2006 in the Bay Area by Evan Phillips, Interdependent Media has built unique strengths in the development, production, and marketing of recorded music via new methods of marketing and promotion. Armed with a comprehensive understanding of both traditional and emerging methods of marketing, iM has successfully created multi-faceted methods of raising awareness and interest in their projects. Industry veterans Ian "ID" Davis and Dominic Del Bene head operations at iM and are credited with discovering and/or developing artists such as 9th Wonder, Little Brother, Tanya Morgan, Blackalicious, Del the Funky Homosapien, the Hieroglyphics and more. In 2010, iM will be releasing multi-media projects from artists Donwill, TRUTHLiVE, Canibus, Von Pea, Moe Green, A-Plus, and more. For more information, please visit http://www.imculture.com
Streams:

CLE Interview:
http://vimeo.com/17376064

"Lights, Camera, Action":
http://www.youtube.com/watch?v=I7dXysklPBQ
http://media.audibletreats.com/Moe_Green-Lights_Camera_Action.mp3

CMJ Performance:
http://www.youtube.com/watch?v=jg_ADnQ4Rlw

"Iced Out Lifestyle"
http://media.audibletreats.com/Moe_Green-Iced_Out_Lifestyle.mp3
http://vimeo.com/15417975

XXL Magazine's Rhyme Time:
http://www.ustream.tv/recorded/10335634

"Top Turnbuckle Lifestyle":
http://www.youtube.com/watch?v=ohFK9kgb-cg
http://media.audibletreats.com/Moe_Green-Top_Turnbuckle_Lifestyle.mp3

"KIM" Video:
http://www.youtube.com/watch?v=dKxV_3bmBk4

"KIM (Keep It Moving)" Acapella Video:
http://vimeo.com/13017715

Rocky Maivia: Non-Title Match:
http://moegreen.bandcamp.com/album/rocky-maivia-non-title-match

"Ride"
http://media.audibletreats.com/Moe_Green-Ride.mp3
http://www.youtube.com/watch?v=uc9-XW0ah1A

"Non-Title Match"
http://media.audibletreats.com/Moe_Green-Non-Title_Match.mp3
http://www.youtube.com/dripdigital#p/u/4/AG9QqQBiuPc

Bio, pictures, and streams available here:
http://www.audibletreats.com/download/moe_green/

Facebook:
http://www.facebook.com/MoeTheDreamer

Twitter:
http://twitter.com/moethedreamer

MySpace:
http://www.myspace.com/moethedreamer

Label site::
http://www.imculture.com/
sitfu.com
Taking a Closer Look at the Stories Ignored by the Mainstream Media