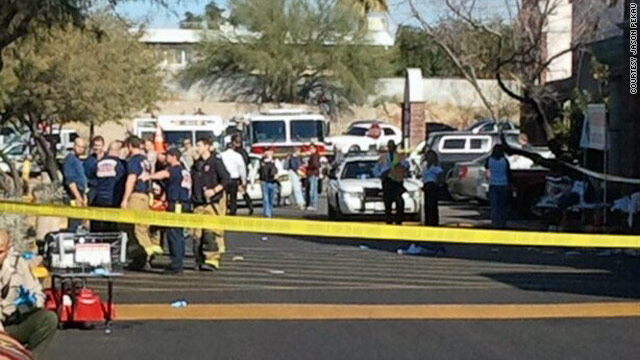 Medical crews arrive Saturday outside a Safeway grocery store in Tucson, Arizona, after several people were shot.
[Updated at 6:16 p.m. ET] The Tea Party released this statement regarding Saturday's deadly shooting at an Arizona constituent meeting outside a Tucson Safeway:
"We at the Tea Party Express are shocked and saddened to hear about the terrible tragedy that took place in Tucson today. It is appalling that anyone would commit such unthinkable violence against Congresswoman Gabrielle Gifford, her staff, a sitting federal judge and the many other victims and families impacted.
"These heinous crimes have no place in America, and they are especially grievous when committed against our elected officials. Spirited debate is desirable in our country, but it only should be the clash of ideas.  An attack on anyone for political purposes, if that was a factor in this shooting, is an attack on the democratic process.  We join with everyone in vociferously condemning it."
sitfu.com
Taking a Closer Look at the Stories Ignored by the Mainstream Media